Have an event you'd like us promote? Email details to info@beagleradio.co.nz. Event Guide last updated: 11.04.2021
Music
The Record Fair – is coming back to Whangarei on 17th April. Your chance to flick through the crates and add some vinyl to your collection. Beagle Radio DJ's will be there playing records. Come down to 116 Bank Street and have a chat with us while you browse. Perhaps you'd like to get involved with Beagle Radio??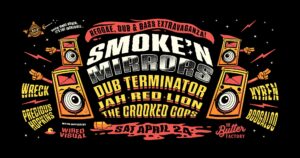 Smoke 'N Mirrors: ft Dub Terminator, Jah Red Lion & The Crooked Cops
It's back! Smoke 'N Mirrors is serving up another eclectic feast of musical morsels. Featuring familiar favourites The Crooked Cops (live Reggae) alongside two new additions – soundsystem heavyweights Jah Red Lion (Chile) and Dub Terminator (NZ) on the main stage.
In zone 2, the 'Bass Cave' we have a sonic side serving of beats and breaks accompanied by live projection from mighty Wired Visual. New to the fold, DJ Wreck will be rolling out liquid Drum & Bass, while local stalwarts Boogaloo, Precious Hopkins and Kyren run the gamut of Dub, House, Breaks, Jungle and DnB to summon the spirits of Smoke 'N Mirrors. See Facebook Event for more info or get your tickets from Eventfinda here.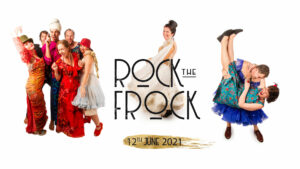 Rock the Frock is BACK! – 12th June 2021
Whangarei's premier event for flaunting your most extravagant finery! A fundraising for Beagle Radio with DJs & live music. 7PM, 116 Bank Street.
Tickets $40 +bf from Eventfinda or support local and omit the booking fee – $40 instore from Paper Bag Princess, Whangarei.
See Facebook event for more details.
Beats & Brews @PhatHouse Brewery – Beagle Radio DJ JXO is playing a DJ set along with Meg, Salty Sounds, this Saturday April 10th @ PhatHouse Brewery, 2 Garden Court Haruru.
Art
STUDIO ARTISTS 21 – The Yvonne Rust Gallery is excited to present STUDIO ARTISTS 21 featuring the hard-working artists of the Quarry Arts Centre. In the past, this eclectic show has featured sculpture, painting, photography, ceramics, moving image and performance. Enjoy the company of friends on what is always a memorable night of celebration!
Opening night event: Friday 12 March 5:30 pm
Running until Saturday 3 April 2021
See Facebook event here.
MEGAN DICKINSON GALLERY
Rosy & Rich Exhibition – Hot off the heels of exhibiting at the Auckland Art Fair 2021 MD Gallery are showing a selection of new works by Rosy & Rich. "Join us at the opening event next Wednesday to celebrate the success of the dream team that is Rosy & Rich. Whangarei based Rosie Parsonson & Richard Darbyshire are a collaborative fusion in every sense. Established thirteen years ago, Rosy & Rich successfully combine their specific skills in ceramics, painting, printmaking and sculpture, with their world views and mutual admiration for one another.
Add this Facebook event to your calendar here.
Open Wed-Fri 12-4pm/Sat 10am-1pm
ONGOING EXHIBITIONS
GEOFF WILSON GALLERY (NorthTec)
HANGAR GALLERY – now at 14 Cross St behind New World
Permanent collection on display – see Reyburn House website for more details
Theatre/Film/Comedy/Dance
THEATRE
Improv Mob – Improv acting jams, games and hilarious entertainment. Adult classes 6-8 pm Thursday nights at 116a Bank Street, Whangarei.
If you enjoy 'Whose Line is it Anyway?' you will love acting games.
Improv games are a form of improvisational acting where (almost) anything goes!
Join us as we make up hilariously entertaining stories on the spot from audience suggestions. No night is ever the same!
Suitable for all levels of experience.
LESSONS:
Lessons are available for adults (16+ years).
Lessons are held at Northland Youth Theatre, 86 Bank Street, Whangarei
Whangarei Film Society – showing great films most Thursdays at Forum North
Markets, Festivals & Other Events
The Canopy Night Market is a marketplace of street food and entertainment for you to enjoy. Explore a raft of international street food from our talented vendors. Held mostly on Friday nights, from 5pm until 8.30pm, over the summer months at the Finlayson Street Carpark, Town Basin. Learn More.
Tutukaka Night Markets – Located at the northern end of the Tutukaka Green with the beautiful Tutukaka Marina as a backdrop this twilight summer market will feature Northland artists, artisans, service providers and curators. Usually Saturday evenings, view their Facebook page for the full summertime date schedule.
Whangarei Growers Market – Whangarei produces an abundant array of seasonal produce. Held in the carpark at 17 Water Street to browse the fresh produce on offer. Facebook to find out more.
Whangarei Mid Week Market – The place to buy fresh sustainable produce and locally produced goods at an affordable price midweek. Like & follow them on Facebook to find out more.
Weekly Classes
ONEONESIX CLASSES
At 116a Bank St – the old church – see ONEONESIX for the latest info.
Community / Fundraisers
Do you have something you'd like us to add? Send your event info to info@beagleradio.co.nz and we'll add it to our guide. Updated weekly.