Event guide last updated 23.01.22. Please email us at info@beagleradio.co.nz if you have something you'd like us to promote.
Beagle Events
We're looking at dates for our our Summer Music in the Park events, watch this space…!!
Music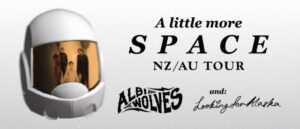 Albi & The Wolves, and Looking For Alaska – A little More SPACE  Tour – 7PM Thursday 10 February @ ONEONESIX
Albi & The Wolves, and Looking For Alaska. Two homegrown kiwi folk bands who are ready to make like Rocket Lab out at Mahia, and launch fans into outer space. To do so, they have joined forces, and are thrilled to announce their joint summer tour, 'A Little More Space' – featuring their music that you know and love, but with more ambition, bigger venues, a bigger band, and maximum summer time vibes. Perfect for hitting that green light, shaking off the covid blues and starting 2022 off with a bang.
'A Little More Space' will feature full sets from both groups, both with a full band of players behind them; as well as additional local support acts to be announced. The tour will be hitting all the best North Island summer hot spots, with shows in Whangarei, Leigh, Hamilton, Mt Maunganui, New Plymoouth, and Hastings.
Most exciting of all, this tour will include a jaunt across the ditch to Tasmania, where both bands will be featuring at the illustrious Cygnet Folk Festival.
Presale tickets are available now, so don't delay – grab yours today and join Albi and The Wolves and Looking For Alaska for a show that is guaranteed to take you out of this world!
Get tickets here.

Love Bug – Saturday 26th February @ ONEONESIX
After August's banging Greg Churchill party COVID came and spoiled our fun for a while! But 2022 is coming and Love Bug (tentatively) returns after what seems like an eternity – we aren't sure what will happen between now and February, but fingers crossed we can all get together and have a beautiful party.
Tickets $20 advance/ $25 on the door
Guests will need to show vaccine passes in line with current COVID protocols.
DJ's for the night:
Little Man Big – a house DJ / producer with years of experience and bags of releases under various aliases, originally from the UK, our Love Bug and Glitter Balls' resident selector, he will bring the funk the tech and the jack.
Paul Orion – Hailing from Auckland, a DJ with 20 years experience behind the decks, Paul made quite an impression on us Northlanders with his chunky NYE set last year. Check out his Electric Orange mixes on Mixcloud for a flavour of what to expect.
DJ Nat – just recently returned from Australia, Nat is a house music enthusiast who has danced all over the world and knocked everyone for six with her funky party sets, quickly becoming an integral part of the Whangarei whanau.
Get tickets here.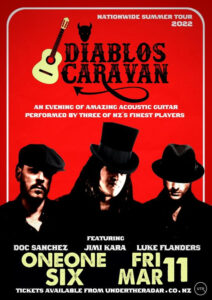 Diablos Caravan – Fri Mar 11th, 2022 @ONEONESIX
Diablos Caravan is an evening of virtuosic acoustic guitar performed by three of NZ's finest players on a huge 62 date nationwide summer tour. Featuring the talents of Doc Sanchez, Jimi Kara and Luke Flanders and joined by a host of guest guitarists as the tour winds its way around the country.
Its been a tough year for musicians, venues and events, so Diablos Caravan are bringing this world class show to as many regions of the country as possible this summer. A performance not to be missed! If you love acoustic guitar and supporting live music then please come join the Caravan for an unforgettable evening of original Flamenco, Blues, Latin Jazz and everything in between!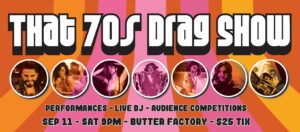 That 70's Drag Show – Saturday, 12 MARCH 2022 @ The Butter Factory
This event is a show, competition and party all rolled into one, so grab your mates, book your tickets and plan your outfit. Groovy Baby YEAH!
Hosted by Miss Ribena and riddled with 70s theme competitions:
Best Dressed
Dance off
Lip sync
All proceeds from this show will go towards future events by Whangārei PROUD (previously known as WhangaGay – Love it Queer!) so it's pretty much a fundraiser… with performances by:
Ms Diamond
Ms Suki Yumi Shai The Flaming Lotus
Kiki Kisses
Nick Minnit
DJ Shady Lady
Hanz Hehim
Peace out, much love, stay groovy and always remember the power of the flower x
Get tickets from Eventbrite
here
.
Art
MEGAN DICKINSON GALLERY
*CLOSED FOR HOLIDAY 16 JAN to 1 FEB*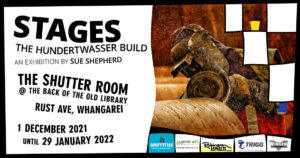 STAGES – The Hunderwasser Build – An exhibition by Sue Shepherd
On from 1st December until 29th January 2022.
ONGOING EXHIBITIONS
GEOFF WILSON GALLERY (NorthTec)
Permanent collection on display – see Reyburn House website for more details
Theatre / Film / Comedy / Dance / Poetry
COMEDY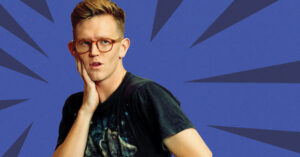 Gentle Man: The Best of Chris Parker – 9th February 2022
Join award winning comedian Chris Parker on tour for a night of his greatest hits.
A rising star of the New Zealand comedy scene, Chris has been seen on TV on 7 Days, Jono and Ben, Funny Girls, Have You Been Paying Attention as well as making a name for himself with his Instagram presence and as a fan favourite on TV2's Celebrity Treasure Island.
With his NZ International Comedy Festival Shows being a yearly sell out sensation, Chris is hitting the road this summer to give you his best material from over the years, as well as something new. It's basically Now That's What I Call Chris Parker, Vol.1.
"an invigorating and charming hour, admirably unpretentious and consistently very, very funny" – The Skinny Edinburgh
Winner – Fred Award 2018 – Best Show of the New Zealand International Comedy Festival
NZ Herald's Top Five Entertainment Heroes of 2020
Get tickets here.
POETRY
POETS@ONEONESIX, Thursday 16 December, 5.30 to 7.30pm
116 Bank Street Whangarei.
For the safety of all participants:
Please wear a mask,
sign in using your Covid tracer app,
and show your Vaccination pass.
Contact Piet Nieuwland for more info – www.pietnieuwland.com
Markets, Festivals & Other Events
Tikipunga Sunday carpark market – Come along bring some goods to sell rain or shine every Sunday all year round.
Stalls are $10.00 for single site and $20.00 for a double site or if selling food this price includes GST . Food stalls need a council licence, and fundraising also need a license. Either just come on day around 6.30am to setup or phone helen on 0211896571.
Food, fresh veges, plants, bricknbrack, something for everyone.
Please come and support our market it's been going here for over 14 years.
Hope to see you all soon. Market doesn't run during covid levels 3&4.
View event on Eventfinda here.
Whangarei Growers Market – Whangarei produces an abundant array of seasonal produce. Held in the carpark at 17 Water Street to browse the fresh produce on offer. Facebook to find out more.
Whangarei Mid Week Market – The place to buy fresh sustainable produce and locally produced goods at an affordable price midweek. Like & follow them on Facebook to find out more.
Weekly Classes
ONEONESIX CLASSES
At 116a Bank St – the old church – see ONEONESIX for the latest info.
Community / Fundraisers
Do you have something you'd like us to add? Send your event info to info@beagleradio.co.nz and we'll add it to our guide. Updated weekly.