Have an event you'd like us promote? Email details to info@beagleradio.co.nz. Event Guide last updated: 19.07.2021
Beagle Events
Music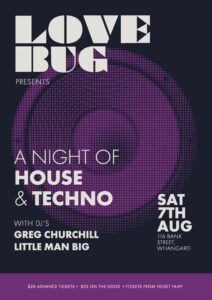 Love Bug – Sat 7th August @ ONEONESIX
Love Bug returns to OneOneSix with a corking night planned, $25 a ticket ($20 in advance), with some serious DJ talent:
Greg Churchill – a cornerstone of the NZ house and techno scene, a top DJ who we have tried to book many times before, Greg is resident at Ink's ultra popular Black Wax night and can be found spinning at virtually any decent NZ festival that has dance music. He is so legendary he is on the verge of becoming a national treasure and plans are afoot to have a waxwork version of him installed in Auckland airport to greet visitors as they arrive in the country.
Little Man Big- Love Bug resident DJ, originally from the UK and one half of house production duo The Littlemen as well as a regular DJ for legendary free party sound system Smokescreen, now relocated to sunny NZ and host of both Love Bug and Glitter Balls events. Get your tickets from Ticketfairy here.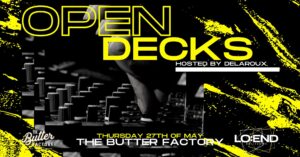 Introducing 'OPEN.DECKS' – bi-weekly at The Butter Factory!
They've teamed up with our good friends at Butters to give an opportunity to all aspiring local DJ's & Producers to showcase their hidden talent. We're pushing our growing local music scene as much as we can, and we want to see what you all can bring to the table!
Curated by Delaroux from – his ear will be tuning in to the best & baddest mixes & original productions you've all been hiding away, and there's a chance for anyone to win a PAID set at an upcoming LO:END Event. Show us what you've got! 
ALL genres and ALL styles of music are welcome, at the end of the day – it's all about sharing and enjoying your art with fellow music-lovers alike, no judgement – no worries.
We'll be running 30-Minute Set Times (which may potentially increase depending on number of applicants.)
To apply; please send through a message to LO:END, – Delaroux – or The Butter Factory. We'd love to hear from you!
Art
Theatre / Film / Comedy / Dance
THEATRE
Improv Mob – Improv acting jams, games and hilarious entertainment. Adult classes 6-8 pm Thursday nights at 116a Bank Street, Whangarei.
If you enjoy 'Whose Line is it Anyway?' you will love acting games.
Improv games are a form of improvisational acting where (almost) anything goes!
Join us as we make up hilariously entertaining stories on the spot from audience suggestions. No night is ever the same!
Suitable for all levels of experience.
LESSONS:
Lessons are available for adults (16+ years).
Lessons are held at Northland Youth Theatre, 86 Bank Street, Whangarei
Whangarei Film Society – showing great films most Thursdays at Forum North
Markets, Festivals & Other Events
Tikipunga Sunday carpark market – Come along bring some goods to sell rain or shine every Sunday all year round.
Stalls are $10.00 for single site and $20.00 for a double site or if selling food this price includes GST . Food stalls need a council licence, and fundraising also need a license. Either just come on day around 6.30am to setup or phone helen on 0211896571.
Food, fresh veges, plants, bricknbrack, something for everyone.
Please come and support our market it's been going here for over 14 years.
Hope to see you all soon. Market doesn't run during covid levels 3&4.
View event on Eventfinda here.
Whangarei Growers Market – Whangarei produces an abundant array of seasonal produce. Held in the carpark at 17 Water Street to browse the fresh produce on offer. Facebook to find out more.
Whangarei Mid Week Market – The place to buy fresh sustainable produce and locally produced goods at an affordable price midweek. Like & follow them on Facebook to find out more.
Weekly Classes
ONEONESIX CLASSES
At 116a Bank St – the old church – see ONEONESIX for the latest info.
Community / Fundraisers
Do you have something you'd like us to add? Send your event info to info@beagleradio.co.nz and we'll add it to our guide. Updated weekly.